Use our thorough list of leak detectors manufacturers and suppliers in New Hampshire to examine and sort top leak detectors manufacturers with previews of ads and detailed descriptions of each product. Any leak detectors manufacturers can provide leak detectors products and services to meet your companies specific qualifications. An easy connection to reach leak detectors manufacturers through our fast request for quote form is provided as well. This source is right for you whether it's for helium leak detectors, ultrasonic leak detectors, vacuum leak detectors or any other leak detectors needs.
Leading Leak Detectors Manufacturers
↓
Scroll
Nashua, NH
|
800-248-8254
The Pfeiffer Vacuum ASM 340 performs helium or hydrogen leak detection in vacuum and sniffer modes. It detects leaks to 5x 10-12 mbar l/s in vacuum mode and 5x10-9 mbar l/s in sniffing mode. This durable, high performance leak detector offers I/O interface, SD memory card and wireless remote operation up to 100 meters.
$$$
Companies Serving Near New Hampshire
Clinton, CT
|
860-669-7548
The Clinton Instrument Co. produces handheld leak detectors for pinholes in coated materials, glass or plastic. Products are ideal for verifying the integrity of electro surgical instrument coating.
$$$
BRIDGEPORT, CT
|
203-366-8834
Milsheff LLC, was founded in 1948 in the town of Bridgeport in Connecticut. The company manufactures different types of valve covers and flange covers that are used in chemical plants, oil refineries, paper mills, food processing plants, steel mills, pharmaceutical plants, and power generating plants worldwide. Their valve covers are known for their durability and their quality. If you are looking for high quality yet cost-effective Valve covers then Milsheff is the right place for you.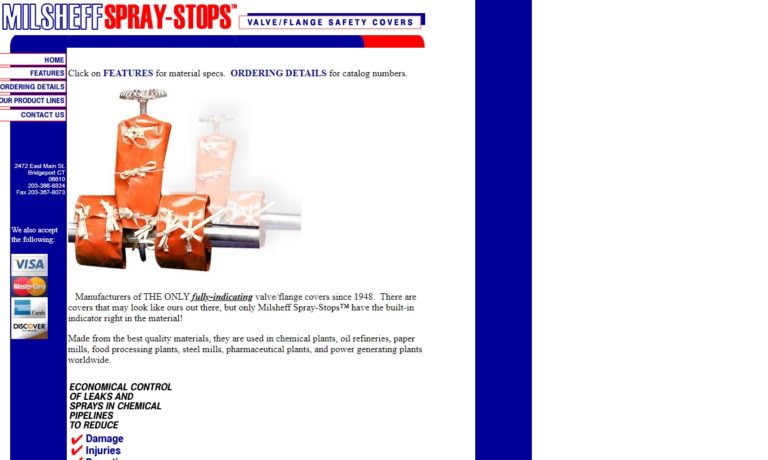 $$$